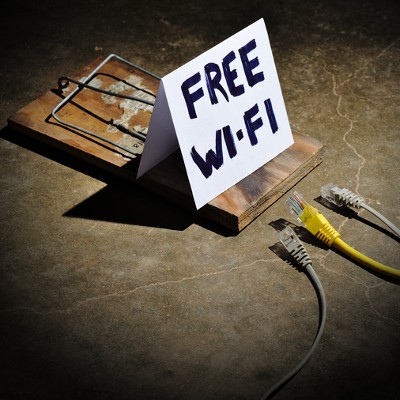 You are going to inevitably be in the position where using public Wi-Fi is better than not using any Wi-Fi at all. The issue with this is that public Wi-Fi is considerably more dangerous to use than the secured in-house network of your office. How can you maximize the productivity of your business' staff while on the go, without sacrificing security by allowing them to use public Wi-Fi to access important data?
We'll discuss some of the reasons why a public Wi-Fi connection might be putting your data at risk, as well as what you can do about it.
Why Public Wi-Fi is So Dangerous
You're walking down the street and you need to access something important on your smartphone. However, you don't want to use your mobile data plan to do so. Instead, you'd prefer to connect to a local wireless network. Tracking down the closest mobile hotspot, you find yourself at a coffee shop where the connection doesn't have a password. You access the data you need, but you have no way of knowing whether or not everything you do on the network is being monitored.
Hackers frequently like to lurk on busy public wireless connections for this express purpose. Since there is no barrier for entry, they can simply log onto the network and take advantage of its lack of security features. Therefore, your business' devices need to have some sort of security measures implemented so that public Wi-Fi doesn't put your sensitive data at risk.
Password Protection is Key
You might remember how your company's in-house wireless network is secured by a credential. These passwords should always be used when possible, as there is otherwise no way to guarantee that your company's network isn't open to just anyone. In fact, we recommend setting up multiple wireless networks--one for your in-house staff and network, and one for any visitors (still protected by a passcode). This way, you can partition your network in such a way that only your staff can access specific information, while you still provide wireless access to those visiting your office.
It's key that any public wireless network that you access have some sort of encryption protecting it from letting just anyone log in. If you notice that there is a wireless network, but no passcode, try asking someone who works there--or look for a poster with the code on it. You should also ensure that you do this for your own wireless networks.
Try a Virtual Private Network
If your organization wants to ensure anonymity while out of the safety of your own office, consider implementing a virtual private network, or VPN. VPNs implement encryption for any data traveling to and from a network, meaning that any onlookers will be sad to see that they're only getting a jumbled mess rather than anything worth stealing. A VPN is certainly necessary for a company that has remote employees or likes to take their business on the go.
Does your organization require a VPN? To learn more, call us today at 844-BIZ-EDGE.